Digital Imaging
Acquisition of digital images in Veterinary radiography beneficially replaces the conventional processing of film and the use of chemical developers and fixer solutions.

There are 2 types of systems which produce images digitally, the first being CR (Computed Radiography). This still utilises a cassette but the film is replaced by a storage phosphor plate. This plate is read by a Digitiser and a digital image is displayed on a monitor.

Second is DR (Direct Radiography) in which there is no cassette present. The technology is based upon a flat plate detector which is made from amorphous silicon. The scintillations recorded during an X-ray exposure are captured and displayed as a digital image just a few seconds after the image is formed.
CR - Image Pilot Sigma by Konica Minolta

New from Konica Minolta, Image Pilot SIGMA. For those practices that want the ultimate in image quality but require a more compact system, then this is it. Weighing a mere 28Kg, Image Pilot is a new generation CR system that dramatically simplifies CR image acquisition.

Auto Pilot image processing automates the image optimisation process and delivers high quality images every time regardless of the body part, size or type. In addition Image Pilot pioneers the true meaning of an integrated digital radiography system as it combines CR acquisition, patient registration, image viewing and storage in one easy to use and maintained system. These advance features of Image Pilot CR eliminates the need for a separate PACS.

Image Pilot Sigma Technical Spec
CR - AGFA CR-30X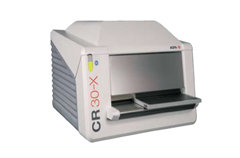 The AGFA CR 30-X is a table-top digitizer that offers excellent radiology reading image plates at the high resolution of 10 pixels/mm for all image plate sizes. It works with dedicated cassettes, and was designed with ease of use in mind for optimal handling, comfort and maintenance. When combined with the optionally available universal X-Ray shielding, the CR 30-X can be used inside the X-Ray room.

Installing the CR 30-X can be done in one day. With the special LED technology in the erasure unit, no additional electricity is required, so standard electrical outlets are sufficient. No preliminary electrical work means a lower set-up cost and simpler installation. With its modular, component based design, it offers faster, easier and more cost-effective maintenance.

AGFA 30-X Technical Spec
DR - VET X DR
FULLY INTEGRATED DIGITAL SYSTEM

Vet-Tech 300HF, 30kW, filament 0.6 & 1.3mm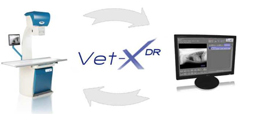 X-ray unit monitored by touch screen
Table with 2 way floating panel
Rotating anode
Collimator with a 3 layer shutter
Menus: automatic, manual, personal, anatomic and last case
Integrated digital X-ray parameters into the Vet-Tech menus
DICOM 3,0 images
Patient data base with searching function and archiving (approx. 5000 images)
Using AGFA MUSICA 2 imaging software and AGFA digital panel 43x43cm
Constant quality for all examinations, high contrast level in all details and reduced post-processing operations
To find out more about our DR Vet X-ray Table: Vet X DR please click here
DR - EVA Vet Dental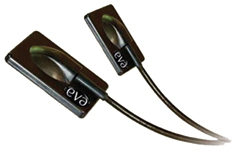 EVA-Vet from AFP imaging is a filmless, digital dental imaging radiology system that produces high resolution, diagnostic quality images. Utilising patented "Active Column" CMOS technology, EVA-Vet produces high efficiency, low noise images which are digitized and transmitted to your computer via a standard USB port and is compatible with laptop or desktop systems.

Digital imaging significantly increases revenue in today's high-tech practice, requires less labour, increases patient throughput and is safer for the animal with reduced X-Ray exposure. The EVA-Vet is easy-to-use; state-of-the-art digital imaging eliminates the inconvenience of film processing and the 3 to 6 minute wait for a single X-Ray. The equipment allows for image archiving, which is fast and simple for patient data base archives. Ideally suited for endodontic applications and caries detection, the operational simplicity of digital radiography increases productivity.

EVA-Vet Dental Technical Spec
NEC Monitors
NEC Diagnostic Displays - MD Series
Digital Imaging is now a major feature of modern veterinary diagnostics. Viewing the images acquired by CR (Computed Radiography) or DR (Direct Radiography) offers many advantages over conventional film screen systems. However, the full diagnostic potential can only be realised when the images are viewed on Medical Grade Monitors. The ability of both CR and DR to demonstrate fine detail and a wide range of contrast and densities is unquestionable. It is not possible to see this level of detail on a standard computer monitor and this should be discouraged. In medical diagnostics the standard monitor in use is a 3MP (Mega Pixel) unit and the standard review (not diagnostic) monitor is 2MP.
The NEC MD Series of high end diagnostic displays ensure the highest level of image quality due to the very high brightness, uniformity, contrast and full DICOM Part 14 compliance. Backed by years of experience in the research and development of medical LCD displays, NEC offers a high quality range of true 10 bit greyscale monitors such as the MD213MG (3MP) with an exceptional maximum brightness level of 1,450 cd/m2 and the MD215MG (5MP) greyscale display, which guarantees optimal image quality and performance.
The latest series of high brightness colour diagnostic displays MD212MC (2MP) and MD213MC (3MP), incorporating Ultra-Advanced Super Fine TFT Technology, offer the highest diagnostic image quality for 3D reconstruction applications as well as for conventional X-ray images without compromise on brightness, DICOM conformance or contrast.
NEC Clinical Review Display - MD View Series
HE NEC MDview Series are DICOM Preset colour displays which have been designed with both reliable quality and affordability in mind. Unique built-in firmware features (which you will not find in off-the-shelf or system-bundled LCDs), can be calibrated to the DICOM Grayscale Display Function using NEC's GammaCompMD QA software.
NEC MDview Series is offered including 3 years standard warranty, which starts not from the date of delivery, but from the date the monitor is switched on. A 5 years or 30,000 usage hours, whichever comes first, warranty extension is offered as an option. NEC Display Solutions Healthcare warranty always includes LCD panel and backlight, as well as same service level during the complete warranty period (no limited warranty statements).
| | | | | | |
| --- | --- | --- | --- | --- | --- |
| MDview 193 | MDview 202 | MDview 213 | MDview 231 | MDview 241 | MDview 271 |
| | | | | | |
| 1.3MP | 20" 2MP | 21" 2MP | 23" 2.1MP | 24" 2.3MP | 27" 3.7MP |
| PVA TFT | S-IPS | S-PVA glass | IPS | IPS | P-IPS |
| Max lum. 250 | Max lum. 280 | Max lum. 300 | Max lum. 270 | Max lum. 360 | Max lum. 300 |
| 1500:1 | 700:1 | 1000:1 | 1000:1 | 1000:1 | 1000:1 |
| 1 x VGA | 1 x VGA | 1 x VGA | 1 x VGA | 1 x Display port | 2 x DVI-D |
| 1 x DVI-I | 1 x DVI-I | 1 x DVI-I | 2 x DVI-D | 2 x DVI-D | 1 x Display port |
| 1 x DVI-D | 1 x DVI-D | 1 x DVI-D | 1 x Display Port | 1 x VGA | |
| Brochure | Brochure | Brochure | Brochure | Brochure | Brochure |
If you would like to find out more about the range of NEC monitors available from A.Somerville Ltd, please call the office on 01484 859330.
| | | |
| --- | --- | --- |
| | | NEC THE TRUSTED NAME IN HEALTHCARE IMAGING |
To find out more about our Digital Imaging products, please call us today.