Light Therapy
Photizo® Vetcare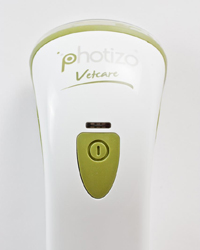 Photizo® Vetcare relieves pain, stimulates cells to repair and heal, reduce swelling and inflammation, reduces muscle spasms and stimulates the immune system in acute traumatic conditions. By increasing the blood and lymph bessel diameter, to ensure clearing of waste products and inflow of oxygen, nutrients and medication concentrations in the areas treated. Photizo® Vetcare is effective in treating chronic pain and inflammatory conditions associated with arthritic conditions and overuse injuries and has proven to be effective in the treatment of:
Skin conditions:
Wounds, lacerations, hyaloma tick bite necrosis, hot-spots, abscesses, saddle sores, habronema, proud flesh, acral lick granulomas, bruising, otitis externa, pyoderma, pododermatitis, skin allergies, eczema, etc.
Musculoskeletal problems:
Arthritis, tendonitis, myositis, ligament/tendon sprain/sprains, bruising, fractures, neck and back pain, splints, overuse injuries, synovitis, edema, hematomas, muscle injuries, muscle spasms, trigger points, seromas, mastitis, etc.
Post-op:
Any area treated surgically, including skin grafts.
Other:
Corneal ulcers, viral/herpes-related conditions, sinusitis, retro-orbicular trauma.
PHOTIZO VETCARE – NATURAL, SAFE AND EFFECTIVE TREATMENT IN YOUR OWN HANDS!
For prices and further information about the Photizo Vetcare, please click here